PDF PCI Motion Control Interface
System Overview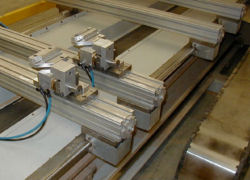 Bolton Engineering Inc constructed the PCI Motion Control Interface using an inexpensive standard PCI controller chip, plus a custom programmed Intel/Altera Flex-series Programmable Logic Device (PLD). The PLD implemented eight quadrature encoder interfaces, control logic for eight bipolar 14-bit Digital to Analog (D/A) converters, cable drive amplifiers, and a watchdog. A variety of other simple I/O was included for future expansion. The board included EMI and ESD protection, as required by FCC part 15 and IEC 61000 standards. To keep costs low, the board was designed to fit on a half-size PCI card, with only four fabrication layers.
Project Scope
Bolton Engineering wrote the specification, designed the schematics, obtained vendor quotes, designed the 4-layer circuit board, wrote diagnostic and driver software in 'C', debugged the system, and delivered five working prototypes.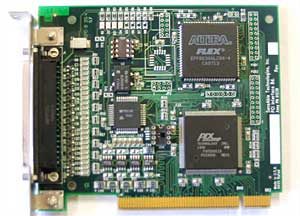 A client had built a PC-based motion control system. The system requirements were more stringent than what standard PC digital and analog I/O boards could deliver, and they wanted a custom board. The client chose Bolton Engineering to design the board.