PDF Personal Relaxation Device
System Overview
Bolton took over the project and fixed all remaining problems over a several month period. Bolton performed exhaustive testing to find and correct bugs. Small software sections were rewritten, and several hardware sections were changed to improve cost. Some components were replaced to improve sourcing.
Results
Fixed all hardware and software bugs.
Decreased cost by 10%, without impacting software written to date.
Added several features to software
Simplified user interface.
Lengthened battery operating time by decreasing power consumption.
Project Scope
Bolton Engineering took over the project, fixed all bugs, cost-reduced design sections, constructed prototype boards, wrote diagnostic software, added new features to the existing software, debugged the system, and supported regulatory certifications. Ten sets of fully functional boards were delivered to the client.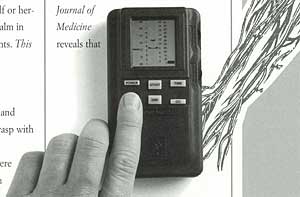 Cognitech had spent several years researching and developing the Brainware 200, a personal relaxation device that uses a combination of pulsating lights and binaural sound to relieve stress and bring its users to a more serene state. Precisely coordinated, slowly evolving light and sound patterns gently coax users' Alpha waves to relax.

Cognitech had worked with a design firm for most of the development, but became unsatisfied as problems remained unsolved, and costs rose. Bolton Engineering, Inc. was hired to take over the project, fix these problems, and reduce cost where possible.