PDF Pharmaceutical Vending Machine
System Overview
Telepharmacy Solutions, Inc. came to Bolton Engineering to design the electronics for their first pharmaceutical dispensing machine, and for all their subsequent dispensing machines. Over a period of eight years, Bolton Engineering designed eight different dispensing controllers, most based on the same scalable design platform, and all command compatible.
The controllers interfaced to host PC's over multi-drop serial networks or over USB. The host PC's controlled machine access and performed user verification via access cards or fingerprint ID. The dispensing machine controllers controlled the real-time vend cycle, ran system diagnostics, and implemented an anti-theft alarm system.
Results
Developed expandable architecture that has met TSI's needs through several equipment generations.
Systems supported from 10 to 120 vending mechanisms (one per product).
All boards were completed on-time and on-budget.
All eight boards were designed and implemented perfectly and required no changes after the first layout.
Project Scope
Bolton Engineering wrote the specification, designed communication protocol, designed the schematics, obtained vendor quotes, developed the circuit boards, constructed prototype boards, wrote diagnostic and control software, debugged the system, and supported regulatory certifications.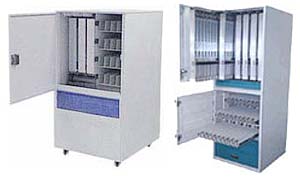 Telepharmacy Solutions, Inc. is a leading provider of e-commerce solutions to the outpatient care market. TSI's products allow medication to be legally remotely dispensed to patients. Other TSI products provide medication access control at hospitals.