PDF Phased Array Microphone
System Overview
The Phased Array Microphone is constructed around an Analog Devices AD-21xxx series Digital Signal Processor (DSP). It includes six microphone pre-amplifiers, six audio CODEC channels, a USB interface to a host computer, Flash boot memory, and on-board power supplies. To ensure a long product life, the system is designed to accept a wide variety of Flash memory chips, plus several different oscillator packages. Most parts in the design are second-sourced and all are ROHS-compliant.
The unusual circuit board shape was necessary to fit the product into a tight hand-held enclosure; most areas on the board had tight height restrictions as well. Although the shape posed some challenges, Bolton Engineering was able to keep to a four-layer board. To ensure high ESD immunity and to reduce susceptibility to external noise, much of the outer layers was "poured" with copper. Weight was important as well, so a half-thickness 0.031" circuit board was specified.
Project Scope
Bolton Engineering designed the schematics, designed the 4-layer circuit board, worked with an Acoustic Magic software engineer to integrate software and debug the board, and delivered six boards to the client.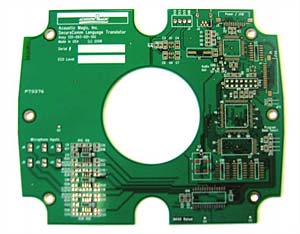 Phased Array Microphones greatly improve speech recognition in speech-to-text applications by intelligently combining signals from several fixed-position microphones to "focus in" on the speaker. Acoustic Magic had been contracted to develop a customized low-power version as part of portable military language translator. Bolton Engineering created this product for Acoustic Magic by integrating key design features from several previous Acoustic Magic designs.