PDF Touch Panel and Display Interface
System Overview
Bolton Engineering was hired to design a Touch Panel controller to mount on the back of the system LCD. The board also consolidated the LCD and backlight control signals. To maintain the thinnest possible assembled board thickness, all the components were mounted on one circuit board side. In addition to the Touch Panel control logic, the board also incorporated an LVDS (Low Voltage Differential Signaling) serializer that consolidated the twenty-two wire LCD interface onto three LVDS pairs. Using LVDS not only simplified the wiring to the processor board, it also greatly reduced EMI because of the much smaller LVDS signal transitions and the differential nature of the signaling.
To provide the greatest possible system flexibility, both RS-232 and USB interfaces were incorporated. The board ran off a single 3.3V supply.
Project Scope
Bolton Engineering wrote the specification, designed the schematics, obtained vendor quotes, designed the 4-layer circuit board, tested the system under Linux, and delivered over fifty working prototypes.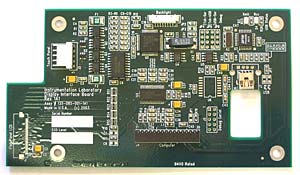 A client was developing a new generation of Blood Analysis instrumentation. The equipment was based on an embedded PC running Linux, and incorporated a variety of different subsystems, not all of which had been specified. The client was unsure of whether the Touch Panel should interface to the host via USB or via RS-232, and wanted to implement both interfaces to maintain as much flexibility as possible.