PDF Canoe Controller for the Handicapped
System Overview
Bolton Engineering designed a new controller to add the half-speed function and allow for a remote joystick. Both are packaged in water-resistant boxes. The controller and joystick features:
Two 300 Watt PWM motor controllers (13.8 Volts at up to 24 Amps) using power MOSFETs.
Ten hour battery life on a single charge.
Quick-disconnect battery connectors for rapid battery changeover.
Low-battery detection and alarm.
Remote joystick.
Half-speed setting.
Results
The school has used the prototype controller for over a year. Bolton Engineering has since built two additional units for other schools.
"Most of the children have never been in a canoe before... the sense of freedom and power they experience is tremendous." - Trainer.
"The look the kids have on their face out on the water is incredible..." - Administrator.
Project Scope
Bolton Engineering was responsible for schematics, circuit board layout, testing, documentation, and manufacturing. One controller was supplied to the school in 1990 and another two in 1991.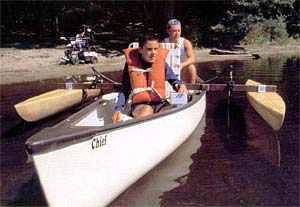 A local school for the handicapped wanted to expand their training and rehabilitation program to water sports. They had adapted an existing joystick controller to work with two electric propellers, but wanted to add a half-speed control and a remote joystick so that an on-board trainer could take control in an emergency.