PDF Miniature USB Camera
System Overview
Bolton Engineering Inc constructed the USB Camera using an Ovonics chipset and a VGA-size Ovonics CMOS imager. The design was implemented on an 8-layer board, and sensitive tracks were embedded between power planes. Components were carefully placed to ensure low-noise operation. The sensitive clock circuitry was placed on the board side furthest away from the laser. Empty space on the board outer layers was shielded with ground copper. All electronics was squeezed onto single 0.8" x 2.5" board. The Camera ran off the USB power rail using less than 100mA of current. The board worked the first time and required no rework.

Project Scope
Bolton Engineering wrote the specification, designed the schematics, obtained vendor quotes, designed the 8-layer circuit board, debugged the system, and delivered ten working prototypes.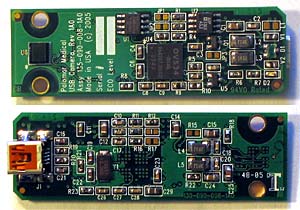 Palomar Medical Technologies was developing a handheld cosmetic surgery laser and required a reliable PC-compatible camera that could fit in their space-constrained handpiece. The system had to work reliably in close proximity to a laser that was fired with over four-hundred Amps of current with nanosecond rise times. The fully working Camera design had to be ready for system integration in under four weeks.