PDF Laser Diode Driver
System Overview
Laser Diode Background
Laser Diodes are some of the most delicate electronic devices made. Providing a reliable "soft start" power-up sequence is essential as they are easily damaged by over-current transients lasting just nanoseconds. Laser diodes incorporate photodiodes that are used as feedback devices to maintain a desired power output level. The photodiode sensitivity of different photodiodes varies over a 100:1 range. The Laser Diodes are packaged in a three terminal package and there is no standardization as to which leads of the photodiode and Laser are connected together as the common pin.
Bolton Engineering designed a flexible system that could operate over a 10:1 output power range using standard low-cost components. User-settable jumpers select what diode pin configurations is to be used, and set different photodiode current ranges. The board operates off a single 5V supply.
Project Scope
Bolton Engineering wrote the specification, designed the schematics, obtained vendor quotes, designed the circuit board, debugged the board, and delivered several hundred production-quality boards.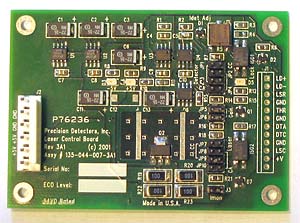 A client had experienced difficulty getting equivalent Laser Diodes for their test equipment. The Laser Diodes they wanted to be able to use were not pin- and function-compatible and required different drive electronics. The client asked Bolton Engineering to engineer a general-purpose Laser Diode Driver that would work with the widest possible range of diodes. The Driver had to be both flexible and low-noise, as it would be used in precision instrumentation.